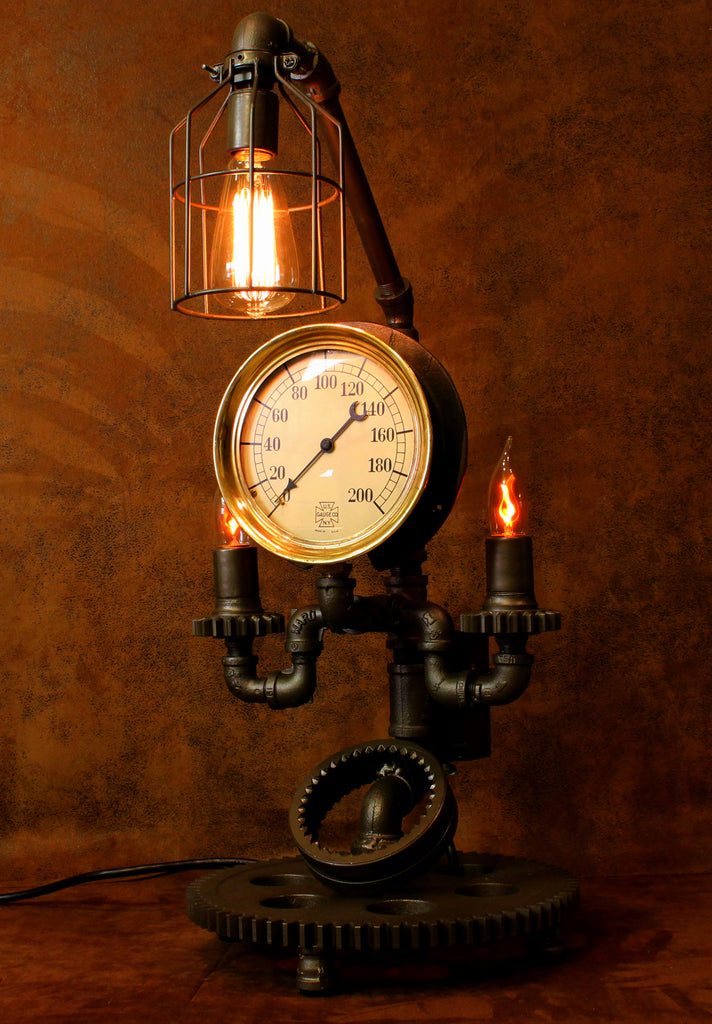 Steampunk Lamp, Steam Gauge Gear Lamp #CC7
$599.99
Free US Shipping

100% Satisfaction Guarantee
Gears used on this lamp are salvaged from old farm tractors.
Steam gauge has been salvaged from some application where steam was used during the machine age.
Included with this lamp are one 60 W vintage style bulb, and two flickering flame bulbs. All sockets accept any standard medium size bulb.
A variable intensity dimmer controls the vintage style bulb for desired light level output.
A main power control switch controls power to all three bulbs.
Lamp weight 37 lbs, 28" tall, 18" in depth.  The base gear in approximately 13" diameter.
Rubber tip protectors are secured to supporting feet to help protect the surface upon which this lamp sets.
Heavy duty 8 ft power cord has grounded plug with 3 conductors.
Lamp wiring consists of 16 AWG aviation grade silver plated copper with Teflon insulation for durability.
All Lamp surfaces are grounded for safety, all wiring is securely clamped, protected, and meets safety standards.