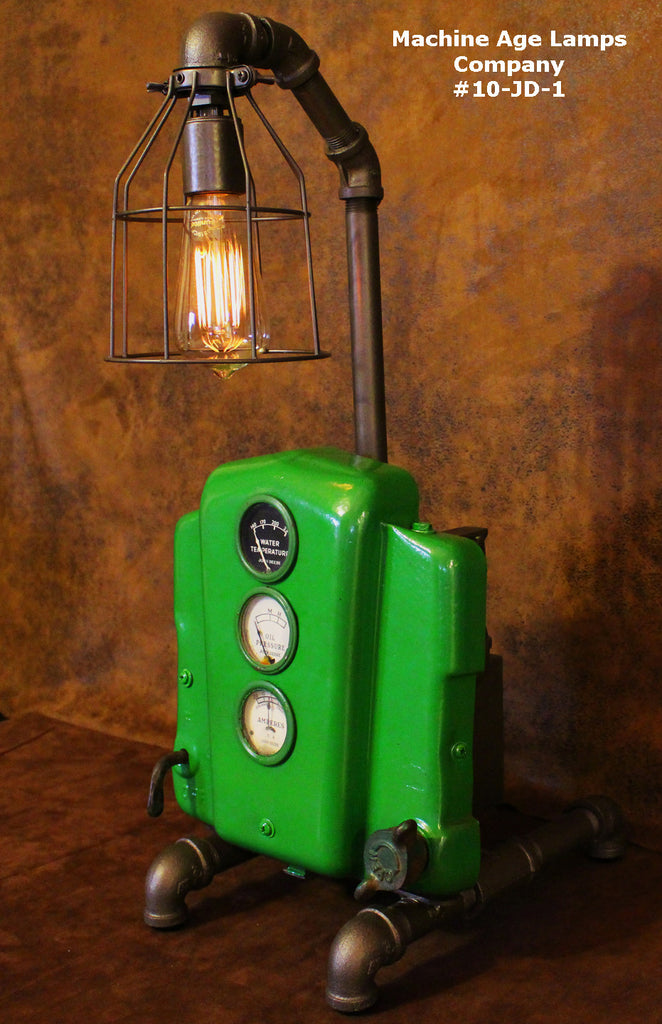 Steampunk Lamp John Deere Farm #10-JD-1 - SOLD
$499.99
Free US Shipping

100% Satisfaction Guarantee
The instrument and control panel was salvaged from an old early day John Deere Tractor.

The knobs located at bottom left and right of panel actually still turn and maybe adjusted like original controls did way back then.

Left knob is marked Off-G-F.  Not sure if this was spark adjust or fuel adjust.   Likely important in the controlling engine operation. 

Included with this lamp is a 60 W thread filament vintage style bulb; any standard size medium bulb will work.

Located on back side of this lamp is a variable intensity dimmer control, which adjusts the vintage style bulb      for desired light level output. This control is also a push on - push off main power control.

Lamp weigh is 14.6 Lbs.  H=24", W=10", D=15"

Rubber tip protectors are secured to supporting feet to help protect the surface upon which this lamp sets.

Heavy duty 8 ft power cord has grounded plug with 3 conductors.

Lamp wiring consists of 16 AWG aviation grade silver plated copper with Teflon insulation for durability.

All Lamp surfaces are grounded for safety, all wiring is securely clamped, protected, and meets safety standards.