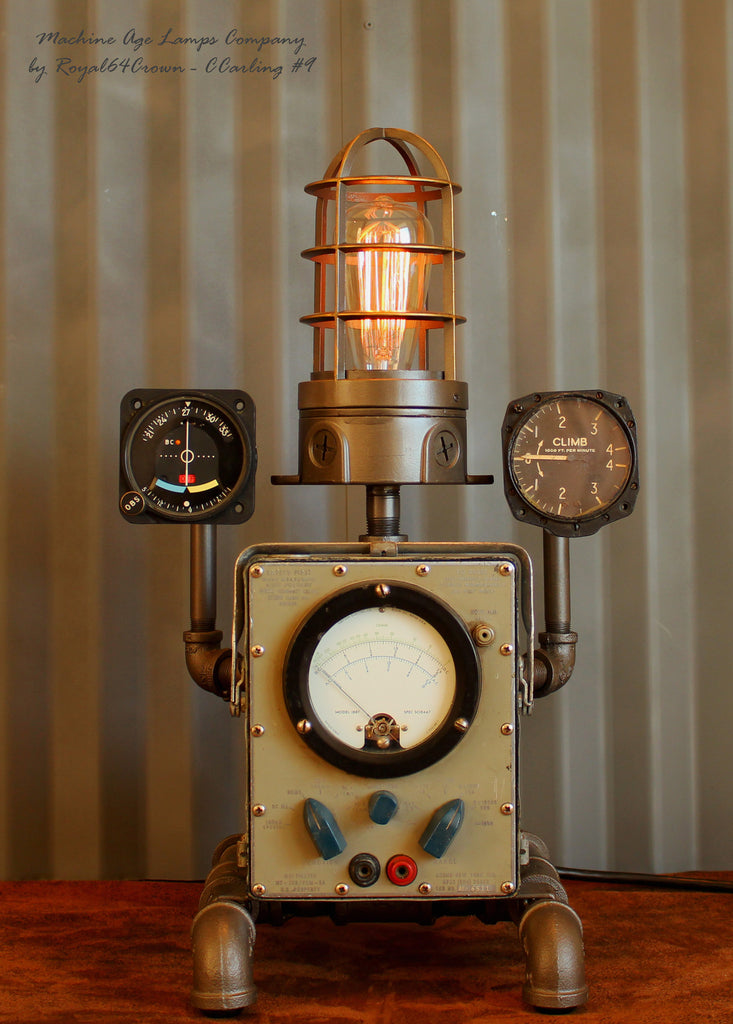 Steampunk Lamp Aviation Aircraft Instrument Repurposed #CC9
$599.99
Free US Shipping

100% Satisfaction Guarantee
Aircraft instruments are from salvaged aircraft.  Used in navigation.
PSM-6 military multimeter salvaged from U.S. government surplus.
          AN/PSM-6    AKA  "Pisum 6"
One of the most rugged analog multimeters ever manufactured for U.S. government use.
Built to U.S. military specs by Bruno-New York Industries.
Also known in some circles as the ME-70/PSM-6 or 56-5002A or later as a 165-5002.
This meter saw service with almost every branch of the military starting in the early '50's
Used in extreme temperature missile environments as recently as the mid '90s!
Used at U.S. missile battalions in Europe and forward electronic posts throughout the Pacific and in SE Asia.
Used on benches at depot level repair facilities within all branches of military and government service.
Likely was one of the most used pieces of test equipment in military or government maintenance/repair.
Anywhere the military had electronic equipment that required maintenance and/or calibration; you would find a PSM/6.
This handy rugged multimeter was also used in support of other government agencies like FAA Airway Facilities.
Included with this lamp is a 60 W vintage style bulb; any standard size medium bulb will work.
Located on back side of this lamp is a variable intensity dimmer control, which adjusts the vintage style bulb      for desired light level output. This control is also a push on - push off main power control.
Lamp weigh is 17.8 Lbs.  H= 21",  W=13", D=12.5"
Rubber tip protectors are secured to supporting feet to help protect the surface upon which this lamp sets.
Heavy duty 8 ft power cord has grounded plug with 3 conductors.
Lamp wiring consists of 16 AWG aviation grade silver plated copper with Teflon insulation for durability.
All Lamp surfaces are grounded for safety, all wiring is securely clamped, protected, and meets safety standards.