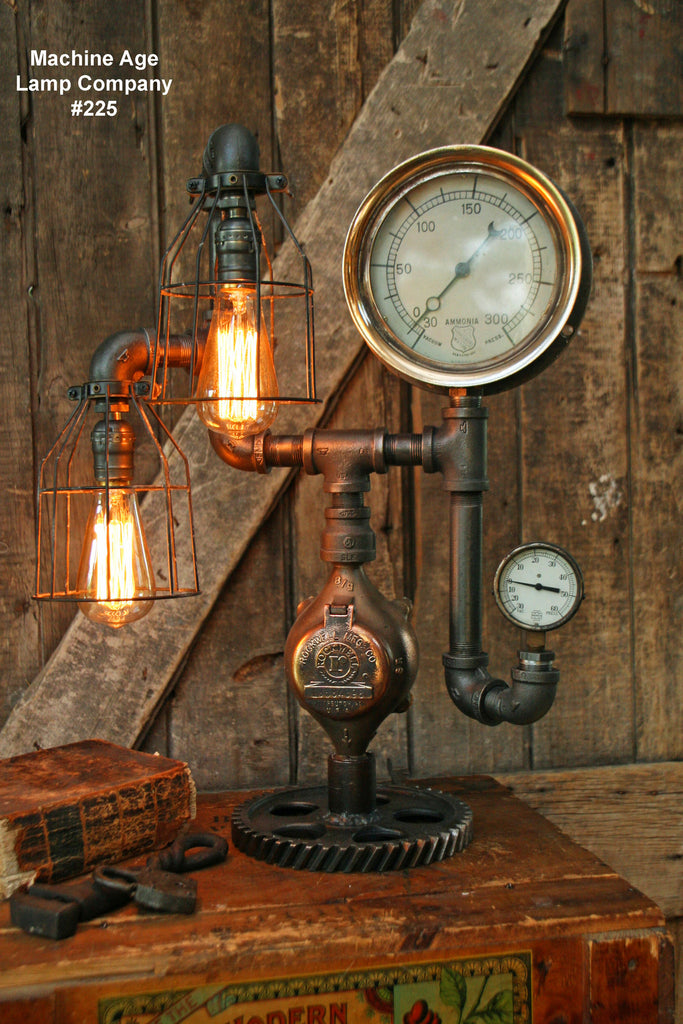 Steampunk Industrial Lamp, Steam Gauge, Train #225 - SOLD
$599.99
Free US Shipping

100% Satisfaction Guarantee
This lamp has sold, but if you like the shape and design we can make a similar lamp.

Please allow 3 business days for 

assembly

 

The gauge will be the same size, but unique to your lamp

We will supply photos for final approval prior to shipping. 

Amazing antique 6" Steam/pressure gauge from the early 1900
Antique 2" Steam pressure gauge dates to the early 1900's
Antique Gear base is from an antique 1940's tractor
Antique brass meter
Industrial power on/off switch mounted on the back of the water meter
Assembled with various plumbing pipe fittings, some new and some old
Double antiqued wire basket lamps and shades

Bulbs not included but any standard/medium base will work, I prefer the 30 watt Edison antique style bulbs shown in photos
Bulbs will always be available on our website  

Stands ~28" tall, very solid and well built, weighs about 45 lbs
Three wire power system, with approved connectors and wiring, with a ground wire added for safety
I have many other lights to choose from, or i can make adjustments to this lamp if you wish. Custom orders are always welcome, please visit my face book page to view past work. 
Please be sure and view our lamp stands and tables (Click HERE)